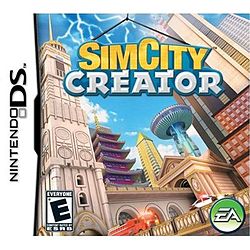 Welcome to the SimCity Creator Wiki
Edit
Welcome to the SimCity Creator Wiki! This wiki is an encyclopedia for the game SimCity Creator, which is available on DS and Wii (both games are different from each other)
What is SimCity Creator?
Edit
SimCity Creator is a game in which you build a city starting with the dawn of mankind, and guiding it through different ages of human history. There are a total of 5 different ages, which include a total of 10 different stages. Each stage has unique aspects to it, as do each era.
Ad blocker interference detected!
Wikia is a free-to-use site that makes money from advertising. We have a modified experience for viewers using ad blockers

Wikia is not accessible if you've made further modifications. Remove the custom ad blocker rule(s) and the page will load as expected.